PetPartners strives to develop long-lasting relationships with the clinics, hospitals and veterinarians who serve our customers every day. We know that veterinarians want the best for each and every client and pet that walks through the door, which is why we aim to help pet parents to afford the highest quality veterinary treatments! We welcome your feedback and want to know how we can help serve you and your clients even more. 
Benefits of pet insurance
Allows pet parents to choose high-quality veterinary care
Changes the question of "Can I afford this treatment?" to "Which treatments are the best for my pet?"
Encourages annual wellness exams and preventative care
No veterinary network - your clients can be reimbursed for eligible veterinary visits to any licensed vet in the US or Canada including emergency and specialty vets
Brochures
Request brochures for use in your clinic at no cost to educate your team and clients on the many great benefits of PetPartners pet insurance.
Email us at partners@petpartners.com and include your practice name, required number of brochures and mailing address.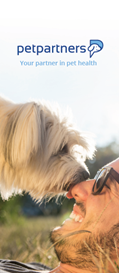 Questions?
If you have questions about how PetPartners can serve you and your clients or are interested in more information, please email partners@petpartners.com or call 919-926-2728.